My new novella, Drayner Series #1 – Just Perfect, is officially available from Torquere Press.
I hope you like it. 😉
---
Blurb: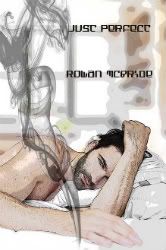 Three years ago, Draven was forced to leave behind his human best friend to become a Drayner Assassin. Cody knew nothing of Draven's ability to steal a person's physical attributes by touch, and the Drayner intends to keep it that way when he returns to Maryland. Remembering the innocent, flawless human he left behind, he looks forward to rekindling his relationship with his friend.
He's taken aback to find Cody a different man, and Draven is stunned by his own attraction to a harder, more brilliant kind of perfection. But getting close to the human is not easy—Draven has more secrets than ever. Like that day, all those years ago…
When he used his magic to steal from Cody.