It's the return of the hat! Yeah!
Like it? Made it m'self—It's based on Urahara's bucket hat, and the first place I ever wore it for this game was an anime convention called Katsucon.
Been a very, very long time since we've played Where's Rowan. I think I was somewhat disheartened by the fact that no one ever found me, but really that's no reason to stop playing, right? So at this year's Dragon*Con (http://www.dragoncon.org/), it's going to be be game on once again.
The rules are pretty much the same as that time. If you'll be in the Atlanta area (specifically Dragon*Con, since it's highly unlikely that I'll be leaving the convention) over Labor Day weekend (September 4th – 7th, 2009), and you see someone wearing this hat—
—Then walk up to that person and ask, "Are you Rowan McBride?"
If it is me, I'll flash you a big goofy grin and give you a prize. Now, the prizes are a little different this time around, so listing them below:
Last we played, that hat was on my head the ENTIRE TIME. This round, it'll either be on my head, or hooked to the back of my laptop bag, so you'll really need to keep an eye out. I know, the game actually sounds harder, but there is one big advantage.
I'll be tweeting my locations in real time. My page is located at http://twitter.com/RowanMcBride. Follow me (easiest) or check in frequently at the page (effective, if you're dedicated).
Got all that? Sounds like fun, yeah? I would really, really like to be found this year, so let's the flash that hat one more time: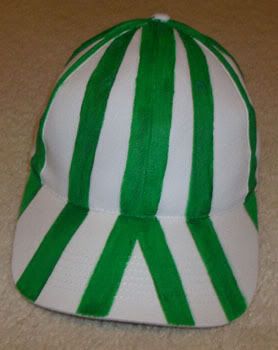 If you know people who dig my stories, tell them it's game on. Let's play!