Archive for the 'Muscle Theft' Category
Monday, April 1st, 2013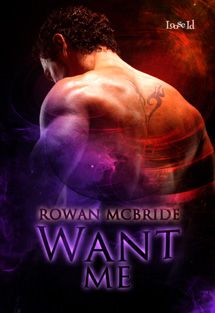 Joel Beckett is blessed. He's popular with the ladies, a star on the football field, and worshiped by everyone on campus.
Including Walker Cain.
Only Walker's worship has crossed the line, driving him to invoke ancient magic that binds them together in an inescapable downward spiral. Now reality is shifting, and with each new life Joel is forced to watch Walker steal away another of the blessings he'd always taken for granted.
It's never enough. Cursed blood runs hot, and with every turn of the spiral, Walker breathes the seductive words that Joel can't resist. The words that could drag them both into Hell.
Want me.
---
This is the ebook edition of "Want Me," and has been revised for Loose Id. In addition to tightening up the prose, etc, it contains a new chapter and a bonus alternate ending. Both were a hell of a lot of fun to write. 😉
Available now at
Loose Id
All Romance Ebooks

W00t!
---
4/3/13 ETA: All Romance Ebooks link. Still waiting for Amazon/B&N links. 🙂