When I was in college, I met a guy who we'll call Mike. Oddly enough, most of my friends from that era would end up coming out in one form or another after graduation, which brings up interesting questions on how we'd come together as a group in the first place. But Mike was my first friend who was out before I even met him.
At first, he was a friend of a friend. But we'd talk, and it was cool. I didn't yet have a word for how I identified, and being around him was a breath of fresh air for reasons I wouldn't understand until years later.
My college had a movie night. It was a very small, rural town and the two big weekly events for students were movies on Wednesdays and dancing on Saturdays. Most of us would go and catch a movie every. single. week. This particular time was no different. I went with my usual group of friends, which now included Mike because he was a friend of a friend. I don't remember what was playing. I only remember that one of the main characters was gay.
And there's a reason I remember that detail and nothing else.
Five minutes into the movie, there were snickers all through the theater. Five minutes after that, I started hearing things like "Oh, he's totally a friend of Dorothy's," and "He's light on his toes," and "What a cake walker." I frowned, wondering what the hell they were talking about. I'd lived overseas most of my life, and at that point I wasn't at all familiar with the vast array of slurs that existed in the guise of almost-normal sentences in America*. But then words like "fag" began to filter through and I started to get the context.
I glanced at Mike, who somehow in the seating shuffle had ended up next to me. His jaw was tight, every muscle in his body had gone rigid. He kept his gaze locked on that movie screen.
I had no idea what to do. At nineteen, who does?
So I did the only thing I could think of. I leaned close to him and asked if he wanted to go outside.
His whole body slumped against the seat. He took a deep, shuddering breath and nodded. Without another word, we got up and walked out of the theater.
Once outdoors, we wandered aimlessly for a while. Quiet. Listening to fall leaves rustling on the wind. He apologized for ruining my night. I said I liked being there with him better and it was the jerks in the theater that had ruined the movie. He apologized again. I asked why because I was dense like that back then. He smiled and started to talk about other things. I listened.
That's all we did. I don't know how long we were out there—for damned sure past the length of the movie. And somewhere over the course of the night we went from being two people with a friend in common to actual friends.
A while back, Anderson Cooper did a special on bullying. It turns out, as much as bullying often induces a complex mob mentality within groups, intervening is just as contagious. All it takes is one intervener to get the ball rolling. A person witnesses the intervention, learns from it, and steps in when a similar situation pops up. More people witness, more people intervene. Even in the case of the person being bullied—if someone intervenes on their behalf, that person is much more likely to become an intervener as a result, developing a sense of empowerment that not only makes them want to change their own situation, but everyone else's situations as well.
That is amazing for so many reasons. It's also amazing because almost every bully interviewed in that special admitted to being bullied at some point in their lives, sometimes continuously. We repeat the behaviors we're taught, and we go to great lengths to survive the culture we are in. Intervening not only helps victims, it changes society by creating a culture where the goal is not to survive, but to thrive.
Often it doesn't take much. A word. A hand. A little quiet attention. It doesn't matter so much what you do, as much that you do something that diverges from the tactics that bullies use.
Today is the International Day Against Homophobia. It makes me think about that night at the movie theater so many years ago, and how stepping out into the open air changed two people. It makes me think about how utterly terrified I was to come out to my own family and friends, then again to my readers. Both those times, I thought about Mike, who often told me his horror stories, but also shared how he loved and how he was loved, and how—even beyond that—he loved himself. I took a deep breath. And it was better.
That's the power of intervention. It doesn't always succeed, but it always, always makes a difference. So be an intervener. Change the world in big and little and amazing ways. Start today. Make things better now.
Listen. Tell your own stories. When something happens to your friend (or someone who could use a friend), speak up, step in. Give them a safe space. A breath of fresh air.
---
*I'm not saying other countries don't have the same sorts of slurs. I grew up a military brat, so while I lived overseas, I wasn't immersed in those cultures because I lived on base. At the same time, I was far away from the States and didn't experience American culture as many Americans might experience it. An odd little bubble that wasn't without bullies, but had its own culture and vocabulary.
---
I'd very much like to hear your stories and experiences on both acceptance and non-acceptance, so please feel free to comment below.
---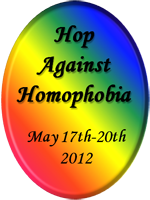 This post is a part of the Hop Against Homophobia. Click here to see what many other writers are sharing on the subject. I'm also giving away a copy of Want Me in a drawing open to anyone eighteen years and older. To enter, send an email with "hop" in the subject to mcbride_rowan@yahoo.com (mcbride_rowan at yahoo dot com) with your name and snail mail addy in the body. Drawing closes at 11:59PM CST on May 20th, and the winner will be notified via email the morning of the 21st. The winner's initials will also be posted on this blog that day.