If you've had any contact with me in the last couple of weeks, you know the only thing I've been able to talk about lately is Lone. That is because I've been hitting the final round of edits, and just today finished looking through the galley (the final version of the novel before its release and hence my last chance to find and fix typos).
Did you know my last book release was in July of 2008? God, my editing stamina leaves something to be desired. Halfway through reading the galley, I had to set the zoom on my word processor to a hundred seventy percent. A hundred seventy. My eyes were straining that bad.
But the good news is…it's out of my hands. The book is done, and will be released from Amber Allure on May 3rd. This is the part where I'm supposed to take a deep breath but of course I'm in the middle of my traditional pre-release insane author panic. I know it's a good book. Possibly one of my best. But still, it's always a harrowing experience and it never seems to get easier.
You can read an excerpt on my site here. I hope you like it. 🙂
---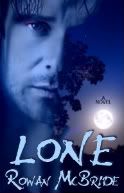 If you'd like to learn more about Lone, check out my website at http://www.rowanmcbride.com/stories/lone/.