A while back I got a rejection letter (I know, shocker, right?). It was nice as far as rejection letters go. Said my writing skills were tight. The story itself was too dark, though. I know this because the word 'dark' was used five times in two paragraphs.
It made me realize that I'm not so good at telling my heroes from my antiheroes from my villains, and that this could actually be a problem.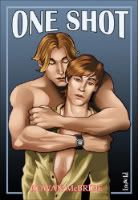 Sometimes I don't cross a line by much and an editor will tell me how to revise. In the original manuscript of One Shot, Riley was much scarier than he is in the published version. When I made him nicer I made the mistake of not toughening up Nick by a proportional amount, but Nick's still a little hottie in my book so that's okay.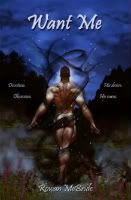 Walker Cain from Want Me, however, didn't get dialed down at all. For good or ill, it was one of the reasons I chose to self-publish. It meant I could go crazy with the storyline. I got to write a character who literally had no concept of right and wrong, not even as other people saw it. He wanted. He took. That was his life. Unfortunately what he wanted most was Joel, and the spiral they were thrown into as a result turned out to be razor sharp and painful for both of them.
Ahh, how I loved that book.
Still, there was an element of likability to Walker. Partly because he just didn't know any better. Innocence born from madness.
Draven Donnor is not mad. He knows exactly what he's doing. And he knows that almost everything he does is not right by human standards. So that would make him a villain, yeah? Except that he's not human. He has a moral code, but it's a product of who he is, of a culture very different than ours. And when it comes to Cody, he's all about loving, he's all about protecting, he's all about getting closer. So he's got flaws, but he also has one really, really good trait. Maybe that makes him an antihero. But…
When he becomes an assassin, he finds that he enjoys his job. That never changes. No angst. No crisis of conscience. Plus at the beginning of the story he steals from Cody. His best friend. Which brings us back into villain territory. On the other hand, from his perspective he is a natural, right being, rightly doing what comes naturally to him. Then again, most villains think the same thing about themselves, meaning Antihero Upgrade denied.
As you can see, I'm not entirely certain how I should feel about my newest character. But I feel for him all the same. He is Draven and I love him. Just like I love Walker. Just like all those psychotic characters I adore so much in anime. (I'm looking at you, Akabane.)
This says something serious about my psyche. I've yet to figure out what, exactly. As the writer of such stories, am I the hero or the villain? Maybe I'm trying to write the best story possible with a concept that's always intrigued me, and maybe I hope Just Perfect catches on and its popularity will let me write more of it. Some of the stories I'd like to tell are cool and dark and possibly twisted. And I believe they belong on the shelf right next to my fluffy stories, because I love fluffy too.
Perhaps my ultimate goal is to bring balance to my backlist. That's a worthy aspiration, even if the road is five times as dark.
Does that mean I'm the antihero?
Or am I just a writer with wicked thoughts, trying to see what xe can get away with?