I keep telling myself that I'll write better post titles. It doesn't appear to be working
I'm participating in two blog hops in May, and I'd like you to hop along with me!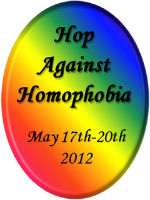 The first is for Hop Against Homophobia, which runs from May 17th to 20th. May 17th marks the International Day Against Homophobia, so a lot of authors are getting together to share their thoughts and experiences. I encourage you to participate, not only to win prizes (I'll be giving away a hardcopy of Want Me), but to share your stories with us as we share ours with you. You can find more information here.
On May 25th, Miho Li is hosting a scavenger hunt. Follow the clues to solve the puzzle, and you'll be entered to win twenty books, including an e-copy of One Good Hand, the first book in the "One Good" series. During the search, authors Katrina Strauss, Z.A. Maxfield, Sloan Parker, and many more will be posting content exclusive to the hunt. I don't know who I'll draw yet, but the writer who gets me will post a sneak peek of the first chapter of One Good Verse, the third story in its series. More details can be had on Miho's site.
It should be good. I hope to see you.