Yeah, that New Year's resolution I made to come up with better blog titles? Not happening.
Last week I participated in an M/M writing workshop at Romance Divas for the Not Going to Conference Conference. I have to admit, I was nervous. I'm still at that stage where I believe 80% of writing is magic, so I was unsure whether I had anything constructive to offer. But as we settled into a groove, I found I had tips to share on characterization, point of view, and even writing sex scenes. Working with the other authors was a lot of fun, and even though I was one of the writers giving the workshop, I also learned a lot.
I also popped in on other workshops. Sasha White's "Coping With Burnout" thread turned out to be a godsend for me because I was rocketing in that direction. Truth is, I've been feeling off my game lately and spending a week talking about writing really helped. Now I'm going to try and take things a little easier for a while, as well as write some stories for fun. And not feel like a slacker when I watch other writers do their thing. Very important.
In keeping with my whole relaxation theme, I finally got to read volumes five and six of Totally Captivated! LOVE it. Recommend and was sad to see it end: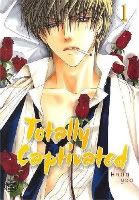 The second quarter stats are in for Lone, and it turns out I made the top ten list at Amber Allure:
1) Allergies by T. A. Chase (Gay/Werewolf)
2) Lone by Rowan McBride (Gay/Werewolf)
3) Satisfaction by M. L. Rhodes (Gay/Contemporary)
4) Bottom's Up: Kinky Orgasm by Amanda Young (Gay/Contemporary)
5) Most Likely To Succeed by Shawn Lane (Gay/Contemporary)
6) David's Dilemma by Lynn Lorenz (Gay/Contemporary)
7) Bring The Heat by M. L. Rhodes (Gay/Contemporary)
8) Car Wash by Shawn Lane (Gay/Contemporary)
9) Carey'd Away by J. M. Snyder (Gay/Contemporary)
10) Betrayed by Cassie Stevens (Gay/Contemporary)
How cool is it that the top two slots are filled with werewolf stories?
Jumping to another subject (this is a ramble, after all), if you're like me and enjoy bishies and muscle, please check out Yayoi Neko's art at http://thundertori.deviantart.com/. I love the way she combines power and beauty in her work.
In totally random fun, Katrina Strauss has posted a vid from a Japanese game show on her blog: Bloggin' it with Katrina Strauss. As a result, I'm currently trying to find a way to work the term "acrylic kiss" into a story. Lol.
I feel like an amazing amount of stuff has happened over the past two weeks. Of course, when I start to write it all down, it starts to get fuzzy. Hopefully, if I remember more, and it's interesting enough to write about, I'll think of a better blog title. 🙂