It is November 11th, which means today is Pepero Day, and it is time to give heartfelt gifts of chocolate-dipped cookie-stick goodness to your loved ones.
For those of you who don't know, Pepero Day is a *totally* manufactured holiday in Korea that caught on and is now awesome. It is always November 11th because that makes the date 11-11, which looks like the Pepero sticks. How wonderful is that?
The day is also celebrated to a lesser extent in Japan as Pocky Day. In both countries, November is fabulous because all sorts of special editions of the snacks are released. Brightly colored boxes of joy all over the place.
Can you tell I'm excited?
I, personally, am celebrating the same way I did last year. By giving away some Pepero goodness. Check the giant box:
I'm also giving away one small box of Almond Crush Pepero (Today is like Valentine's Day and it's a whole box of
crush
.)
And AND I have two boxes of Fran. One person will get the chocolate, and one person will get the white. What is
Fran
, you say? Why it is much like Pepero and Pocky but hella decadent. And it's in stick form so it qualifies in today's celebration.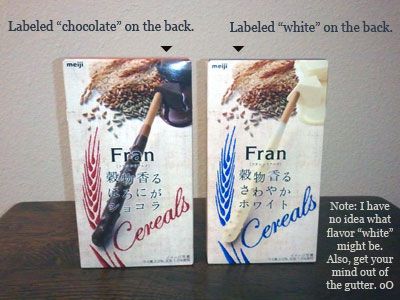 Can you tell how much I love you?
That's a total of four Pepero Day gifts. All you have to do to win one of these is to comment on this (http://rowanmcbride.blogspot.com/) blog post. You have until 11:59pm tonight (11-11-12), Central Standard Time to play.
Winners will be announced on this blog (http://rowanmcbride.blogspot.com/) 11-13-12 (Nov. 13, 2012).
So play! Love me back by making a comment! XD
Happy Pepero Day!
---
It's also Veteran's Day. As I understand it, Sandy knocked out the Manhattan VA Hospital as well as the regional Veterans' Assistance office. If you are one of the vets affected, the Maddow Blog has a list of resources you might be able to use, including how to get emergency refills of your meds.
Stay strong. Stay safe. And thank you for your service to our country.
---